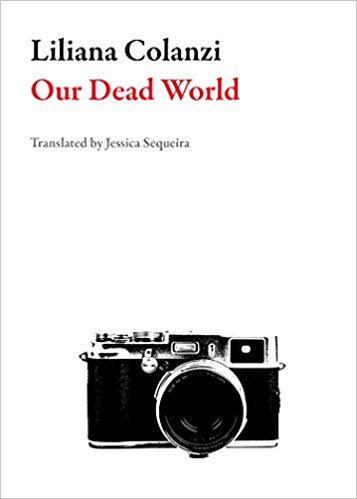 Our Dead World  by Liliana Colanzi
Bolivian Fiction
Original title – Nuestro mundo muerto
Translator – Jessica Sequeira
Source – Personnel copy
As I said the other week , I have been adding a few new titles from my own money to the tbr pile , this is a new writer from Bolivia , I was attracted by the fact there has been so little lit from the country , Liliana Colanzi is  writer , journalist and editor . She currently lives in New York this is her third collection of stories and the first to be tranalstated into English by her
She ran to the bathroom, hoisted her foot on the toilet bowl and lifted up her skirt . She took the razor and without breathing made a crosswise cut on her thigh where some old scars were fading , she gave herself three ,four ,five quick slaps on the face until the bathroom mirror returned an image of burning cheeks . Then she tucked her hair behind her ears a, cleaned the blood from her thigh with a piece of toilet paper, flushed it away and went back to bed , where she stayed reading Maira Dimma's The marvelous Secret of the souls in Purgatory until she fell asleep.

A girl marks herself in the opening story of the collection
Now this is a strange collection of short stories , mostly all have a hint of  sci-fi in there  nature , I was reminded in part of Early Murakami and other writers  . It has a mix of real and surreal worlds touching. A wave in one story comes across a university coming across making the students kill them selves, this is stories about stories . A man on Mars see ghostly animals in the desert of Mars as memories of his home on earth surface . , a family gather for that yearly photo and sparks fly . A dead youngster is being buried and a daughter and her  religious mother discuss what happens after you die  . A couple on the run in Paris run into a killer as they  arrive in the city , but are they to be dinner .
The day we arrived in Paris the police confirm the cannibal is hiding in the city. He lands on a commercial flight and the airport cameras show him passing through security controls, barely disguised in a copper coloured wig. He wears a Mickey mouse T-Shirt and has a distinct beauty and fragility that makes him look like an adolescent rock star than a butcher. It's May and raining and from the seventh floor of the hotel the streets of Paris look like an Ocean off moving heads with colourful umbrellas floating here and there.
A couple in Paris the same time as a potential killer .
This is a short collection of eight stories that mix real life and magical realism.But also a future that could be where creatures have gone and come back in ghostly views , echos of Amazion Indian  powers and magic. I felt this is a nice short taster of what could be a new voice from her country , has already won a major prize for Spanish female writers under 35 .This is a writer trying out styles  a mix of everyone from Classic JG Ballard with the sense of abandon worlds and Murakami earlier works , where explained things happen this crops up in Colanzis work like in Early Murakami books . Also a nod to Borges this is a collection from upcoming new writer .A collection you can read in an evening .