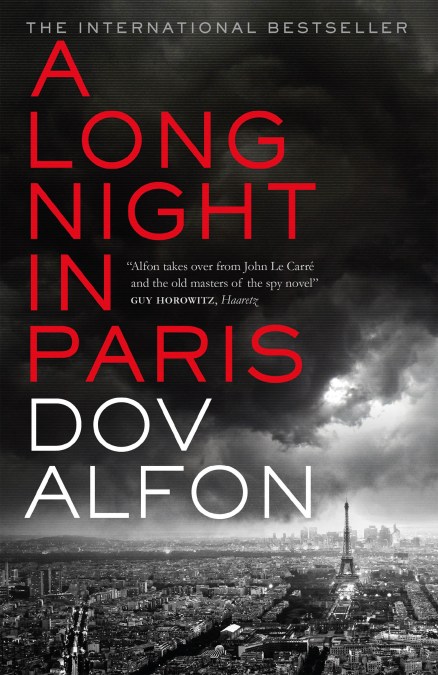 A long night in Paris by Dov Alfon
Israeli fiction
Original title –  לילה ארוך בפריז
Translator – Daniella Zamir
Source – review copy
I was sent this and usually maybe not into thrillers. As a youngster, I read more thrillers my father is a huge fan of the genre so growing up there was always a thriller around to read if I want. In recent years the only thriller writer I have read in English is Le Carre being a huge fan of the BBC versions of his smiley works in the 80s  I have read his books from time to time so when Dov Alfon work was compared to that of Le Carre it made me want to read it then when I saw Alfon himself had served in the 8200 unit on top of that had been editor of Ha'aretz the leading Paper in Israeli I knew this book would be one that was relevant and true to life.
Nine people witnessed the abduction iof Yaniv Meidan from Charles de Gaulle airport, not including the hundreds of thousands who watched the security camera footage once it had been posted online.

The intial report of the French police described him as " an Israeli passenger, approximately twenty years old", although a week earlier he had celebrated his twenty fifth birthday. His colleagues described him as "Mischievous", some calling him "Childish". They all agreed he was "Fun-loving".

The opening chapter and the sense of how far info goes is caubght in the line about the camera footage !
A night in Paris opens when a young man a marketing man for a software company disappears with a woman in a sexy red dress after arriving at harle de Gaulle. Then another passenger from the same flight happens to disappear from his hotel room. The French police assign Commissaire Leger to sort the case. But also on the same flight, the two arrived on is the new head of 8200 unit Colonel Zeec Abadi Like Alfon that wrote the book is from Tunisia and had family in Paris he is on the way to visit his mother so he contacts his deputy in Tel-Aviv  lt Oriana Talmor to try and get info on the victims and what is happening to lead to the third side of the story a bunch of Chinese commandos sent and using the woman in red to get hold of certain people in the hold of certain facts. As the night goes on the bodies pile up and even in Tel-Aviv the deputy has trouble after falling out at a meeting and then she is subject to an attempt to be rape only saved by the fact she is very good a Krav mag. A long day will Zeev get to the kidnap victims back.
Oriana hoovered above Paris. She knew it was Paris because she could see the Eiffel tower below, and Abadi was waving to her. She landed softly beside him, like tinker bell. She wore a short, peach-coloured dress but she was not cold; it was a beautiful day with as blue a sky as only a dream might conjure. She asked Abadi weren't supposed to be in uniform. Abadi said no. He was wearing a three piece suit but had fins on his feet; he told her they were going diving into the seine to find Rav Turai Yerminshi's body and that she was dressed prefectly for the mission

THe two in aParis search for the second kidnap victim as they aim to search the river!
I like this it has a wonderful flow t the tale it is told in 120  short chapters each a little tale in itself as we wind our way around Paris and find out what is really happening it has some great thriller touches Zeev the main man has a touch of Bond and Smiley maybe more of the Smiley side the 8200 unit collects data and codes and is the leading technical unit of its sort in the world. That is what Alfon has caught this is maybe a new line in the thriller with China as the enemy. We also see technology and information as the new currency in the spy world. The place is something that is covered well here Paris is a great backdrop to the night of action here as we move around the city's arrondissements. Every main character in a thriller needs his back team and in Oriana, he has a modern woman that has sharp wits and is his only ally at this moment.So all the box are tick for a great thriller add to that black suit Chinese commandos with heat seeking bullets you have great thriller it has been sold to make both a film and Tv series in Israeli. This is what Steve Jobs would have written as a thriller or Bill gates this is the modern thriller for the tech age where what we think and the information is paramount.