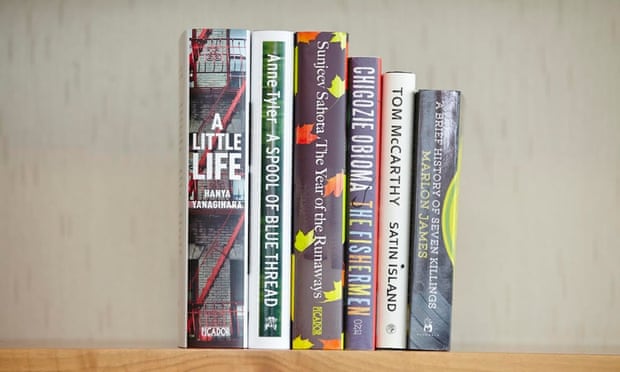 Tonight sees the booker winner announced and like last year I have not read a single book from the shortlist .I last read the full shortlist in 2009 in the early days of this blog. But my tastes have shift or have they ? I watched the artsnight show presented by Ben Okri about this years shortlist and by the end of the show went damm Stu what you doing . THis years list maybe is the one that I should have tried . I have read Anne Tyler and Tom McCarthy  before and connected with both Tyler writes great family drama and McCarthy is talented writer if a little overrated imho but C was thought-provoking. I was brought A little life by Hanya Yangihara by Amanda for my birthday, but have yet to get to it. When the list was first announced a the longlist stage I would put money on A little life, BUt it is the last three books that Ben Okri really sold me and reminded me of what years ago I loved in the booker .Marlon james has written about the attempt  killing of Bob Marley , The fisherman by Chigozie Obioma could herald a new voice in African writing it seems and draws on the oral tradition of His homeland .Then there is  Sunjeev Sahota book about immigrants in Sheffield from India (I only live ten miles from Sheffield so this appeals on the level I don't think there is enough immigrant lit ).I wish BBC had shown the Okri show at the start of the shortlist (I know it couldn't have been done , but they could have done all longlisted writers maybe). Next year I shall take more note and maybe raise my eyes out of my current translated read and look at what makes the shortlist and in the mean time will pick up the three books by James, Obioma and Sahota as and when I see them. I'm not going hazard a guess at a winner but for fun will pick some comparable translated books similar in one or many ways to the shortlist.
A little life by Hanya Yangihara  – The tower by Uwe Tellkamp – another epic book about growing up , not as much about abuse but the abuse of  power that they saw by the state at the time .
A spool of Blue thread by Anne Tyler -When doves disappear by Sofi Oksanen a story that goes back and forth in time like the Tyler story does.also there is a link between the two main characters .
Satin Island by Tom McCarthy A project for revoloution in New York by Alain Robbe-Grillet A challenging  experimental novel from France set in america as Satin island is a play on Staten island in New York .
The fishermen by Chigozie Obioma – Our Musseque is another tale of African life tough and brutal as well but seen through the eyes of kids .
A Brief history of seven killings by Marlon james – The anatomy of a moment by javier Cercas another book about a moment in history , this was about the attempt coup in the early 80's in Spain .
The year of runaways by Sunjeev Sahota – She is not me by Golnaz Hashemzadeh  Another story of immigrant life in Sweden not Sheffield thou .