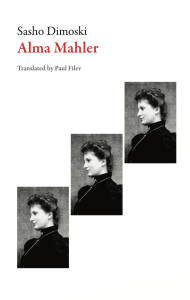 Alma Mahler by Sasho Dimoski
Macedonian fiction
Original title – Alma Mahler
Translator – Paul Filev
Source personal copy
I found this book when looking around recent books that had been brought out by Dalkey Archive. I have been a fan of there books for a while as they are always trying to find new places to bring books from. So when I saw Macedonia was one of the countries they had just bought a book out from there I had to try it. Sasho Dimoski has written three novels and studied comparative literature in Skopje and is currently working as a Dramatist. This is his first book to be translated into English.
We had time, Gustav. Time stood still when we weren't in it. It came to a halt, and nothing took place here or elsewhere. Nothing. We always had time. Always. Every wrong righted in the present, and smoothed over for the future. Every unspoken word for every innermost place within the soul, for every rise and fall within it.Every you and every I, for the various forms the days took, and that slumbered at night. And whenwe awakened our time, you and I always knew that n the other side of the looking glass stands the unkown. Something only we two could know, That we still know. And that we live today, in thwese final days that I drag along like shackles.

An undercurrent of her silence and growing unease is here
This book follows the life of the wife of the composer Gustav Mahler. Alma Mahler married him late in his life they were married for nine years this book describes those years just before his death. It uses his symphony as a guide for the chapters. we see their marriage from her point of view. She was a talented composer and a woman that in many ways must have been a muse she later Married the founder of the Bauhaus movement and the writer Franz Werfel. She was also painted by the other Gustav Klimt (that crops up in the book). What we see is the power struggle of a clever woman forced into the shadows and with a husband that at times is so wound up in his music that he doesn't see her at times. She puts at one point she gave up long ago and now lives day to day. Late on he reveals she was every to him but she didn't know when he falls ill after his ninth working on his tenth symphony.
There is something I must tell you, Gustav

I Fell in love with the idea of being Alma Mahle. Then I fell in love with you

Assurances? No. What kind of assurances are you talking about? I could have had that from any number of men. Indeed, I did have it from quite a few. I reveled in your greatness, which I later came to learn largely meant profound sorrow.Immencse lonliness. Great effort. Considerable. Numerous sacrifices. Umpteen missed birthdays, countless significant dates forgotten, unshared beds. Symphonies concerts, different towns, changing residences, searching for new homes, suitcases, makeup, tears, silence, sadnees,silence, tears, make up, grief, suitcase, anguish, sorrow!

That silence again her looking back on wanting to be his wife, but regretting it for the missed reasons.
This is a short book. sixty pages of a poem like prose. It is one of those books that defy being place in a pigeonhole a prose poem, a novella and it also has music notations in places of each symphony also a strong feeling of a monologue. In an interview in Bosnian, I translated on google the writer talks about the silence in the book. There is many spaces and also the silence of the love between them and the silence in the music. as he says the silence that stands against the music. this is a book about the gaps in their relationship in a way a great mind and a woman of great will silenced, she had written music but early on she shows she now lives in his shadow. An interesting intro to Macedonian lit. I understand this has been made into a stage show. In the Bosnian interview, he is asked about the theatre in Macedonian Lit. For me it would work well as a monologue piece the vice of Alma comes through in the text I could see it working as a stage piece.