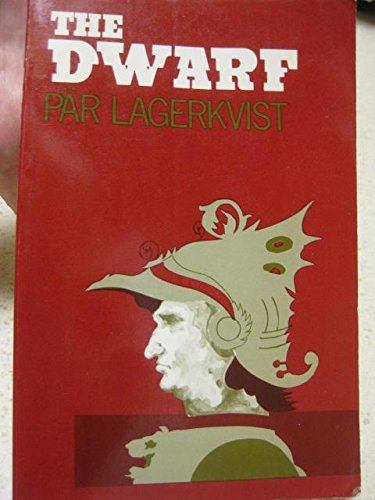 The Dwarf by Pär Lagerkvist
Swedish fiction
original title – Dvärgen
Translator – Alexandra Dick
Source – personal copy
When Simon and Kaggy announced the 1944 club, I searched the list of books published that year and this was one that jumped out at me especially when I saw the cover. Par Lagerkvist was a Nobel winner. He grew up in a house where the books he had to read were the Bible and the book of common prayer. But in later life he didn't turn against religion he was a socialist but had a deep interest in what man his symbols and God. What man's position is in that world. This book is a perfect example of what he did in a lot of his writing question what is good and Evil.
What abput the Prince ? Does he suspecgt nothing? or maybe everything?

It looks as thpugh the matter of her secret life did not exist for him. But cannot tell, with him one can never be quite sure of anything. He consorts with her in the daytime, and it seems as though he himself were daytime in person , for he is so utterly irrahited with the light of day. It is odd that such a person should be  beyond my comprehension – just he! but perhaps that is because I am his dwarfm and again – he does not understand me either !

This passage does make you wonder is Piccoline is just another side of the Prince .
The book is narrated from the point of view of the dwarf of the title he is the court Jester  Piccoline. He is in the court of an Italian Principality. He has the ear of the prince. He is also told secrets by other members of the court such as their lovers and who is doing what which gives him a greater insight into the inner workings of the town. But this little guy has a real twist of evil in him he is a true Machiavellian figure. The town they live in is in many a feud with the local towns. This is et in the 15th century Italy around the same time as some of the other villages built great big towers here they have hired Bernardo to do some painting (This character could be a version  Leonardo Da Vinci) The town could be Milan but the time and place isn't ever really mentioned so for me it is just a mixture of tale of the time when Italy was made of small towns and states that were at constant battle what is the problem here is the dwarf they all see as just a jester in a way is twisting them and helps the prince when he has to poison someone for the Prince he does this as he hates the person but he hates everyone around him he isn't the jovial figure they think he is as we see how he sees the downfall of his town and the violence he has in part he has unleashed.
I am no blasphemer. It was they who blasphemed, not I , but the prince had me clapped in irons for several days. The little jest had been intended to amuse, but I had to spoiled it all and the guests had been very upset, almost scared. There were no chains small enough so they had to be specially mad, and the smith thought it was a great deal of trouble for such a short sentence. But the prince said that it might be as well  tohave them another time. he let me go sooner than he had planned

Again is the dwarf real  and does the prince really see the dark side of him and what he has inside him .
I was drawn in by Piccoline narration of his life he is truly a dark figure. He is maybe more of a dwarf on the inside and that is the question is he a real figure or maybe just the dark side of the Prince of the town. His dark inner child in a way the acts and thoughts of Piccoline has that childlike way of seeing good and evil as he views the world as very black from his mere 26 inches. This is the reason I love events like 1944 club is they make you look out older books. I have always tried Nobel winners when I have seen their books around second hand so I would have got to Lagerkvist at some point but this coming out in 1944 meant I got to it sooner. Lagerkvist does seem to question through Piccoline what our actions are when we are faced with violence and conflict around us. A lost gem of world literature as this seems to be out of print at the moment!!