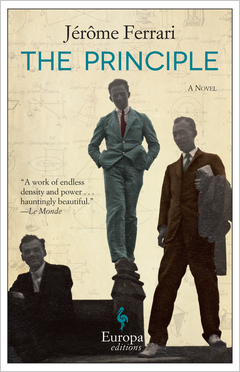 The Principle by Jerome Ferrari
French fiction
Original title – Le Principe
Translator – Howard Curtis
Source – review copy
Well from a new French writer to me yesterday with Pierre Senges to an old favourite of this blog Jerome Ferrari has had his two earlier books translated into English The sermon on the fall of Rome and Where I left my soul.  He won the Prix Goncourt with his last novel and lived in Abu Dhabi where he teaches Philosophy. but now lives in Casablanca , like his other novels I have read this is a look back at recent history this time he has looked back at those fever years of the war when scientists where trying to build the Bomb.
You were twenty-three years old , and it was there, on that desolate island where no flowers grow, that you were first granted the opportunity to look over god's shoulder,There was no miracle, of course, or eve to be honest , anything resembling God;s shoulder, but to give an account of what happened that night, our only choice, as you know better than anyone, is between metaphor and silence . For you , there was first silence, then the blinding light of an exhilaration more precious than happiness

This the time he made his famous uncertain principle
we are drawn into the world of Germany in the  early 1930's  and onwards when the country falls under a dark shadow of the Nazis,  we follow the life of Werner Heisenberg , a man best known know for his uncertain principle .We glimpse into his world one of knowledge , but he was best known for something he worked out many years earlier his principle . we see his life unfold drawn into the Nazis world of the hunt for the Bomb as he was the one that made classic science become the atomic age of science he is at the forefront. What we see is how a man of science and his own principles has to walk a tight line of the age he is trying but not trying if you know what I mean ! Faced with a world he didn't expect to be in from those early days  of discovery .
They're all bored to death

Something in them becomes gradually worn pout over the  endless weeks

Professor Heisenberg plays Mozart sonatas, by heart on the piano. Nobody listens to him anymore. Every day, Professor Hahn walks for hours in the garden, never tiring .He calculates the distance he's covered. If he'd walked straight ahead , he would have crossed the sea. By know he would have been ages in Germany

They struggle to get the Bomb made .
This was a clever novel that is a good autobiography in a novel form of a figure , that was at the heart of the burning atomic age a man who provide the turning point in the way people thought of Physics. Like his earlier books lament and sorrow under lie the main character in a way also like his earlier books he deals with how people deal with those situation where we have no chance to turn and the world seems in utter chaos. In Where I left my soul it was the Algerian war and the sermon which was an angrier look back at his childhood homeland  as ever using his poetic writing style to look at one person struggle in this world . Here it is the madness of the Nazis and Hitler wanting the Bomb before the allies. There is similarities in style too In search of Klingsor by Jorge Volpi which was also a look at the same group of people in this novel from a different angle where they try to find the top man in the programme. An interesting look at the times .