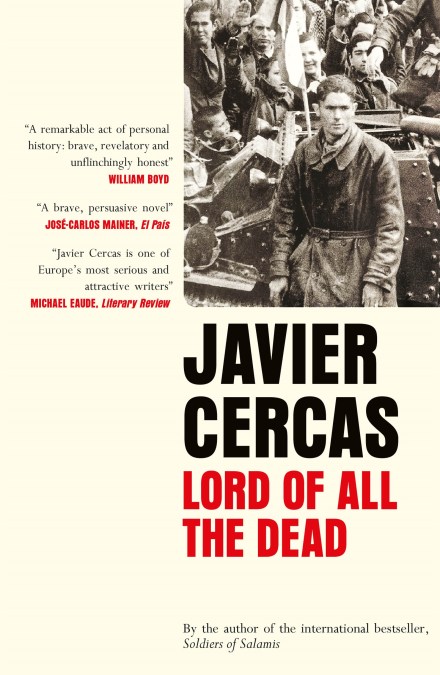 Lord of all the dead by Javier Cercas
Spanish fiction
Original title –  El monarca de las sombras
Translator – Anne McLean
Source review copy
I have reviewed five books by Javier Cercas before four novels and a work of non-fiction he is one of my favorite writers so I am always excited when new work has been translated into English by him. For me, he has a unique talent at telling an individuals story and using that one person's tale as a wider view of his homeland from that of the storming of parliament in 1982 and the story Lt Col Telero or the tale of one mans lies in the imposter.  This is his latest book and a personal story of a family legend for Cercas last name is Mena and this is the story of Manuel Mena a favorite uncle of his mother that fought on the Republican side during the Spanish civil war.
Manuel Mena was born on April 25,1919. Back then Ibahernando was a remote, isolated and miserable village in Extremadure, a remote, isolated and miserable region of Spain, over towards the border with Portugal, The name of the place contraction of Viva Hernando; Hernando was a Christian Knight who in the thirteenth century contributed to conquering the moors from the city of Trujillo and incorporating it into the possessions of the king of Castil, who presented his vassel with adjoining lands as payment for services rendered to the crown,Manuel Mena was born there, his whole family was born there including his niece, Blanco Mena,including Blanco Mena son Javier Cercas.

A hundred years tomorrow was the birth of Manuel it seemed fitting to publish this review in time for this .
This was a story that Cercas had longed to tell about his own family hero. But in doing so he would have to accept his families past and the fact his father fought for the Franco side in the civil war. Manuel Mena has a lot of similarities to the young character in his book soldier of Salamis where the young man in that saves a leaders life and is a hero what here made Manuel Mena the family hero he was and this is what  Javier sets out to find out paint his early life in remote isolated town how he came from young boy to the man who in two short years left the village and died from wounds before his turned nineteen. Cercas finds that a man in a famous family photo of Manuel and his fellow soldiers. he interviews this man and finds out more how his uncle was injured and died in the largest battle of the war. Then another photo was taken as he posed with his cap to one side and looking relaxed before he went to the front. Cercas compares his uncle's wartime service to That of Drogo in Dino Buzzatis work The Tartar Steppe or of a character in a work by Kis. He discovers a man caught in time and maybe we all have a family Hero.
The top two buttons of the jacket are left undone, as is the right brest pocket : this delibrate carelessness allows a better view of the white shirt and black tie , both similarely spotless. It is striking how thin he is; in fact, his body seems unable to fill out his uniform: it is the body of a child in the clothing of an adult.The position pf his right arm is also striking, with his forearm crossed in front of hisabdomen and his hand clutching the inside of his elbow, in that gesture does not seem natural but diocated by the photographer (we might also imagine the photographer suggesting the jaunty angle of the peaked cap, which cast a shadow over Manuel Mena's right eyebrow) But what is most striking is his face, it is unmistakeably, a childish face, or at most adolescent

Manuel Mena in a photo is still a child in the army.
I was reminded in this novel of  my own family hero story of my own grandfather that served in the Africa and Italy during ww2 but told a story of a first aid box he constantly had during the war after getting in trouble for leaving it behind once the one story he told of his war really but he was on the cover of the telegraph liberating an Italian village with his fellow tank drivers . What Cercas does  is remind us how important these single stories of are the war every family has a Manuel Mena in there past and that is what reminds us how horrific a war is the loss of this pone boy barely an adult in his jaunty hat in the biggest battle of the civil war has a ripple effect that leads to this book to his mother grief at the loss of this beloved uncle she briefly knew. That ends with Cercas finding the battleground where his great uncle passed. I discussed this earlier on twitter and was told it was a favorite of a Spanish translator I said for me it was great but I still loved the Anatomy of a moment.