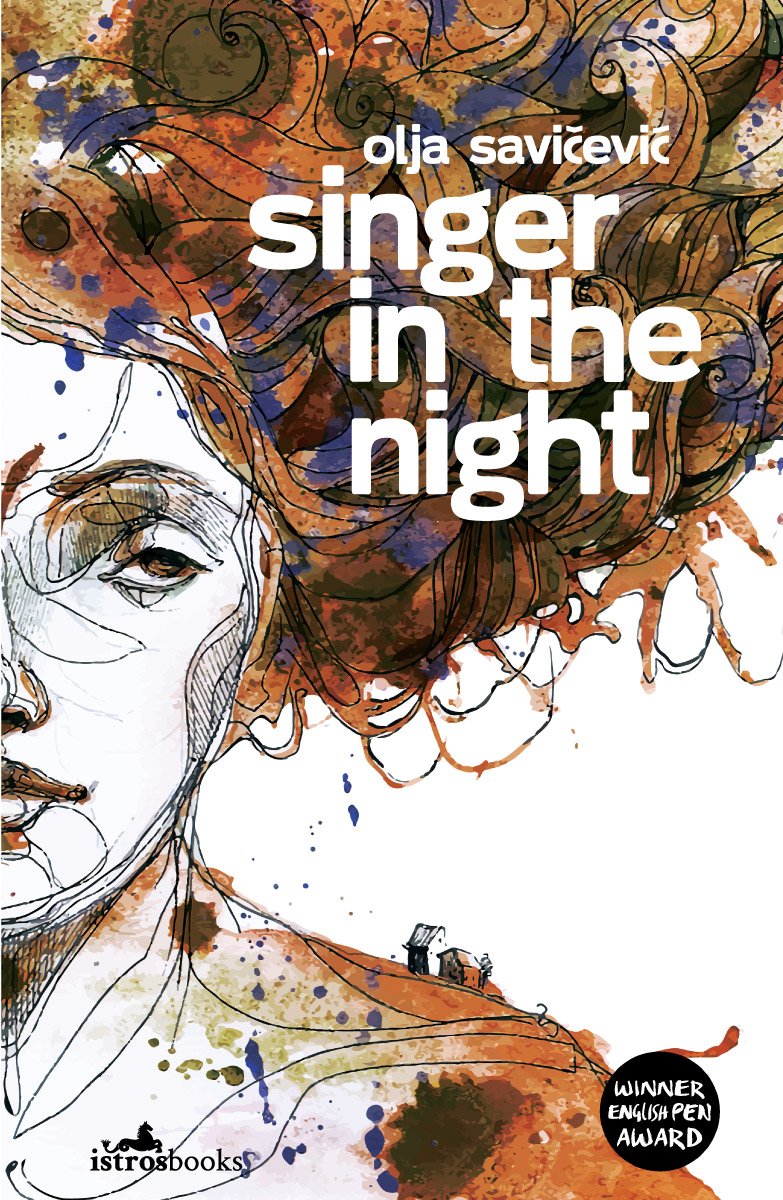 Singer in the night by Olja Savičević
Croatian fiction
Original title – Pjevač u noći.
Translator – Celia Hawksworth
Source – review copy
I'm back from my short holiday and back with a book from one of my favorite publishers Istros books and also a book that does something that in the time I have been blogging we are seeing and that is a second book from a writer coming out in English. Sometimes we see a great novel from a writer then never see any of there other works translated so this is the first of two returning writers that Istros have brought out this year the other I will be bringing you shortly here. I reviewed Olja first book farewell cowboy a novel that followed a sibling hunting for a lost brother with touches of lost time from her generation often called the lost generation. She grew up when Yugoslavia was still just together and saw the birth of a new country. This book like her earlier book, this is set in Split and also has a similar theme of a female looking for a lost male her it is Clementine's story of searching for her ex-husband.
Dear citizens, householders, close friends, fellow townsfolk, mild and attentive civil servants and waiter, courageous and patient nurses, magicians, secretaries, dresser of abundant hair, eternal children in short trousers, seasonal ice-cream sellers, dealers in intoxicating substances, drivers who brake on bends, gondoliers of urban orbits, captains of foreign ships, foreign girl on captains, neighbours – agreeable disco gladiators, neighbouring proto astronauts and everyone else in Dinko Simunovic street, not to list you all
The book opens when a poetic letter is posted by someone calling themselves the nightingale. This letter an ode to the street in a district of Split and his wonderful neighbors from the daily rising to there lovemaking. This letter leads into a sort of hunt for the writer of it from someone that was his wife  Clementine now a successful soap opera writer sets of to find the Gale but also driving her car around the places they visited we see her take a drive into her past and what happened to bring them to the present from the street of the letter writer we see a trip to the seaside and the to the Capital of Zagreb where her job is launched and her street poet other half and her drift war and life drifted them and this fragment work shows a women grasping at the past love and trying to reconstruct her life and like most her fellow country people make sense of the war still there in the background and she has to face what is her reality what is her truth this in her world is maybe now rewritten like a soap episode and shows what happens when we make those choices.
All right, I'll tell you, so ,my name is Clementine. On outside, I'm a blonde orange. I have a Brazilian hairstyle, I drive a two seater Mazda MX-5 covertible, gold, but inside I'm a black orange. Full of black juice.

The day bfore my meeting with nightingale's mother, the meeting with which I began this story, I travelled from Ljubljana to Split. I decided to make the journey after I had spent tje whole of the proceding week vainly calling Gale every day,. When I tried to pay money for the boat's berth  I discovered that his account had been closed months before, at the marina they told me he had paid all his bills, but, they'd noticed for some time no one had been coming to the boat. His mobile was dead and at first that annoyed me , then it worried me( we had not been in touch often, in fact very rarely in recent years, and then mainly in connection with our shared boat, but nevertheless).

Clem explains why she want to find the gale.
This book brilliantly is a mix of a road trip novel as clementine revisits her past in doing so sees where her life start from her home town and the mirror of her friends from then with her kids a life that she could have had there is a sense of a soap opera at times the way the tale opens piece by piece wanting us the reader to get to the next episode as one would say a lot of cliffhangers. This is also a detective work in a way we follow Clem and her hunt for the Gale and like a good detective novel those little clues of there lives and past are scatters as the picture builds this is a single night read that lingers with the reader. It has a heady mix of lost love, poetic writing, post-war Croatia  and pre-war Croatia without ever wallowing in the war just showing the outfall from letter by the likes of the old warrior.