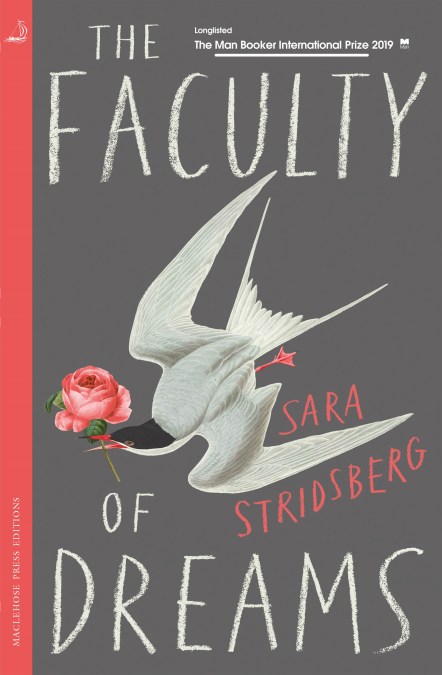 The Faculty of Dreams by Sara Stridsberg
Swedish fiction
Original title – Drömfakulteten
Translator – Deborah Bragan-Turner
Source – review copy
This is the second of the Man Booker longlist that wasn't out at the time the Longlist came out. But it was brought forward and came out a few weeks after. Sara Stridsberg was trained as a Lawyer but decide she wants to be a writer. She won acclaim for her first novel Happy Sally wich liked this book focused on a real person in that book it was the first Scandinavian woman to swim the English Channel. She has also worked as a translator. She worked on the Swedish version of The SCUM Manifesto from the main character of this book Valerie Solanas. This book won the Nordic council literature prize the biggest prize in Scandinavian fiction
A hotel room in the tenderloin, San Francisco's red-light district. It is Alril 1988 and Valerie Solanas is lying on a filfthy mattress and urine-soaked sheets, dying of pneumonia,Outside the window, pink neon lights flash and porn music plays day and night.

On April 30 her body is found by hotel staff. The police report states that she is found kneeling by the side of her bed( has she tried to get up?Has she been srying?) It states that the room is in perfect order, papers neatly piled on the desk, clothes folded on a wooden chair by the window. The police reports also states that her body is covered with maggiots and her death probably occurred around April 25

The opening is the sad end of this poor womans life.
This book is a novel that tries to build a life for the radical feminist Valerie Solanas. She wrote the radical SCUM Manifesto. That put forward the theory that Man had ruined the world and it was up to the woman to mend the world and get rid of all the men. The society of cutting men as it stood for. This follows her life from her tough childhood where she was abused and ended up at a young age on the streets battling to get to college and how to see ended up in the New York her life is a mix of ups and downs and also a lot of mental illness so she never quite seems to have control of her world and even some of her friends like cosmo and silk boy verge on being surreal the action is told in conversations with Valerie both with the likes of Andy Warhol whom she had sent a play to that was too graphic for even him. She even ended up with a part in one of his films. She was on the verges of his factory scene. But that leads to what is maybe what she was most famous for and that was trying to kill him after she had a turn and want the script back she had sent him years earlier and shot him. There is clips of the trail what Stridsberg tries to build is a fuller picture of this deeply troubled woman. Her frequent visit to mental hospitals shows how fragile she was.
The Narrators

A. A heart full of black flies. The loneliness of a desert. Landscape of stones. Cowboys. Wild mustangs. An alaphbet of bad experiences.

B. Blue soke on the mountains. I am the only sane one here.There were no real cowboys. There were no real pictures. I vacuumed all the rooms; the dust was still there. I cleaned all the windows; I still could not breathe. It had something to do with the construction. The sun burned through the umbrellas.

C. The american film. The camera's lie's. World literature's. America was a big adventure with its unreal blue mountains, its desert landscape.

The books has couple of alphabets like this one.
I was aware of Valerie mainly as she is part of the song cycle that Lou Reed and John Cale did for the songs of Drella which mentions Valerie and what happened with Andy. Sara has tired here to maybe make her seem a slightly more complete person rather than have that one event be the epitaph of her life. This pieces her life from her abuse and living her family and the times on the streets which meant she sold her body and also it fixed those ideas which she wrote about in her Manifesto as all men as a rapist. Her view was extremes but this shows how they were formed by her own life which was tragic. She also recently featured in an Episode of American horror story the cult series but this is maybe the best version of her life it brings a cinematic view of her life. I was reminded of some French novels of recent years that also take a real person as the central figure and build a novel around it from HHHH to The adversary and build a life narrative like that.