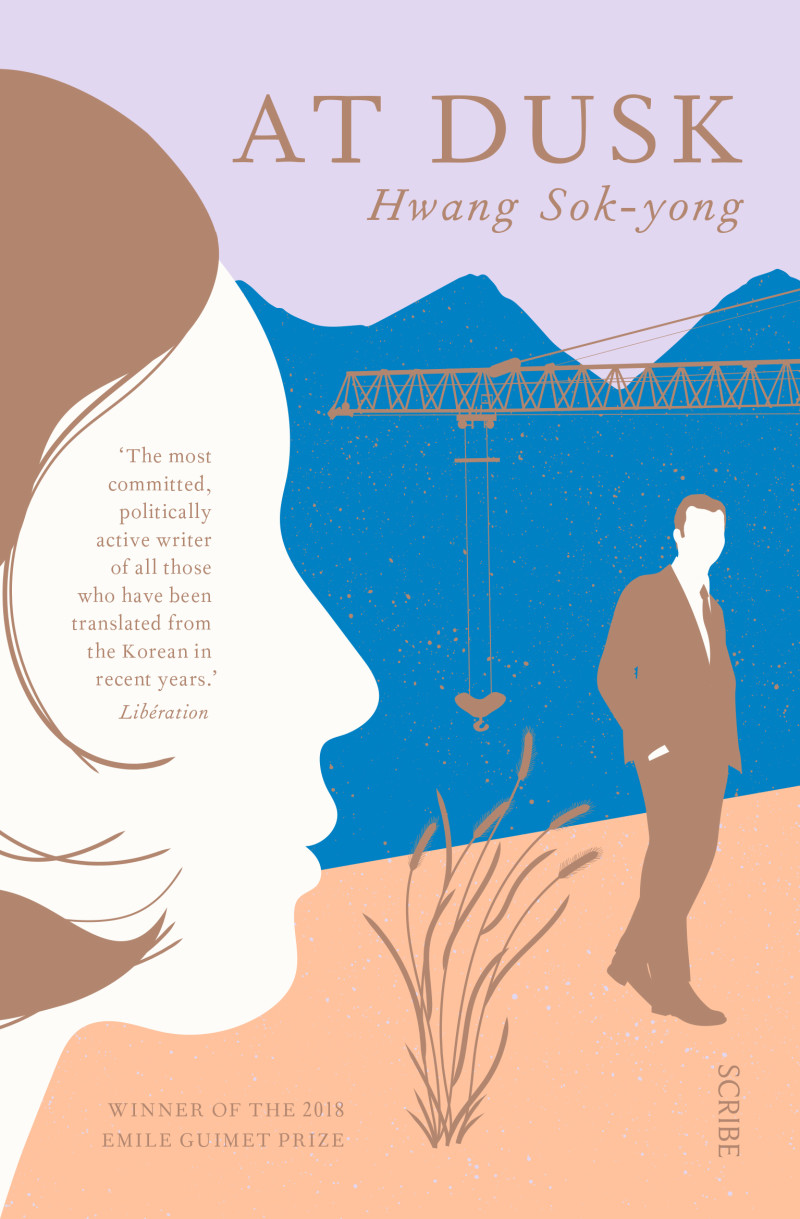 At dusk by Hwang Sok-yong
Korean fiction
original title – 해질 무렵
Translator – Sora Kim-Russell
Source – personnel copy
One of the nice things that have come about from the longlist. It has given me a chance to revisit three writers that have featured before on the blog. This is the second visit I featured Hwang Sok-yong nine years ago. The book " the guest"  was one of the earliest reviews on the blog when I read that book I liked it but didn't fall in love with it. But I have since struggled with finding Korean fiction either twee with the folk-like tales of Salmon or Hen dreaming of better things. Then there have been other books that I haven't connected with. Until now the only one before this was please look after mother and I found this is a different story but it is the same tale of Korea that is the changing face of modern Korea.
It was mere coincidence that I had studied architecture and made a career of it and that Byeonggu had come to own a costruction company, but after meeting again in our forties, we were like hand in glove. Because we needed each other.

Of course, we all like to think that our own stories of difficult childhoods and overcoming adversity are the stuff of tragic epics, but they're never really worth bragging about. Talking about it is pointless as telling youngsters that they've never known true hunger, that they don't know what it is like to be the hungry kid with no lunch trying to fill his empty stomach at the drinking fountain.

Park partner the one that cause him the trouble and how he dragged himself up her in a neat passage.
We meet Park Minwoo if there was a poster boy for what you could do with your life in Modern Korea. This guy would be if he is at the forefront of making modern Korea as an Architect. He is one of those who are making bright shiny Korea and is good at his work so is an in-demand man for designing the future. He has maybe grown too far. The company he runs is in trouble. The buildings he has been asked to design may not be built but are just there to draw in peoples money in.  This leads Park to rethink his present and his past along with the fact an Old flame Cha Soona. The chapters fall with Parks story in the now and Cha's story of her and Pask's younger years. She grew up on what was then the edge of the city and worked in a shop a time when people were the son of this man or daughter of such a man in these case a noodle maker and fishcake maker this harks back to a simpler time. She loved acting literature and books. She had dreams but we see her life now in a tiny apartment. the book draws the past and the present together. From the fact that Park's wife and child now settled outside Korea. Too Cha living in a small apartment in one of his building as Park meets the ghost of his past in the place where he grew which his building have eaten up.
When my younger brother and I got home from school, we snacked on the torn fishcakes, still warm from the fryer. Once our hunger was sated, we'd laugh and point at each other's greasymouths. My mother would wrap up the rest of the torn fishcake from that day and send us out to deliver them to places she owed favoursto or anyewhere else that she needed to stay on the good side of. That meant places like the tiny shack inhabited by the elderly man who fetch water from the public tap for us and the other vendors in the marketplace, the garbage collectors station, the police box and so on

Park and his brother handing out the left overs to the community to keep it runninga time now gone and habits now dead.
Now, this is a book that like Please look after mother did that mixes what Korea was with what Korea is. I keep thing back on my recent watching of Tokyo-ga Wim Wenders ode to the Japanese filmmaker Yasujiro Ozu which he said Ozu tried to capture in his films the downfall of Japanese society and this is what Sok-yong is doing here with Korean society and the world people lived in from the simple age when people knew every one til you end up like Park lost in the clouds or cha lost in a small apartment with just two stip lights for company. This uses the twin narratives well as the book comes to the end you see the two narrators drawing closer till the end. I am liking this list for the fact I have discovered books that had past me by in the last year.  But also the books are all quite short this took me a little over a day and I am already well into the next on the list. it's hard to say where this will end up I found it clever using the twin stories and loved some of the use of names like the fishcake makers son. Then it is just a simple tale.