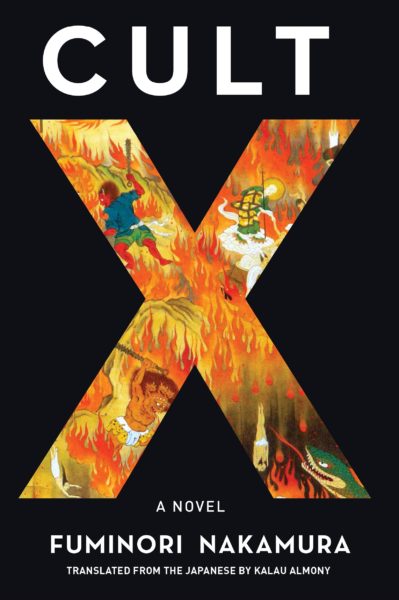 Cult X by Fuminori Nakamura
Japanese Crime fiction
Original title – Kyōdan X (教団X)
Translator – Kalau Almony
Source – review copy
I read this a few months ago and decide I have a flick through it today it was one of those books I read and said got do a review and then life and everything got in the way. Anyway, Fuminori Nakamura is one of Japan's leading crime writers he has won a number of prizes with his books including the Kenzaburo Oe prize one of the biggest book prizes in Japan he has been writing since his early twenties He has had a number of his books Translated into English. The events in this book were inspired by the events that lead up to the Sarin Attack in 1995 in Tokyo and the cult behind it. Strangely as I was reading this in the summer members of that cult were executed in Japan.
"…Cult X?"

What a strange name, Narazuki thought. Like the name of some trashy TV show.

"Have you told the police about this scam?"

"Matsuo-san didn't want to" Yoshida said, lookinf fed up. "Because of whatever that old connection is between Matsuo-san and Sawatari.I don't know the details".

It bega to grow dark outside. Narazaki felt as though the lights inside were growing stronger – manmade lights stretching out everyone's shadow

When he hears about Cult X he also has a feel of darkness drawing in around him !!
This follows one man as he tries to find his girlfriend. Toru Narazaki girlfriend has disappeared off the face of the earth and he is worried enough in the start to hire a private detective to try and find her. He only turns up that a cult is now connected to one-off her addresses. This is how Toru ends up following what Happened to Ryoko Tachibana also she is known as Rina. Toru has an interest in religion he has been attending talks by a man known as Matsuo.this leads to a dark cult called X which Toru is drawn into as we see the philosophy of its leader through lectures and discussions. She is in the groups compound he needs t get there but behind the fence is a world of a cult with power tri[ps sexual activities  violence and a leader that has lost it and is drawing his followers near the abyss of something that could end their lives but also of a lot of other people as he has brainwashed them so much. This all unfolds nicely as we follow Toru in the rabbit hole of a cult.
The leader was sitting in the dark. At first the woman thought he was sleeping, but then he made a slight movement, as if something small had gotten caught in his thrat. His eyes open briefly.

She examined his face carefully, but the leader closed his eyes again. It was like he had already forgotten the previous moments discomfort.He kept his eyes closed, even though right in front of him were many naked men and woman with only bath towels covering their bodies.

"Today is Monday," Maeda-Kun said. His voice carried well. He had good posture. He was kind. And he wasn't the only one – everyone here was kind.

The leader and his naked disciples all isn't as it seems here.
This book is a writer question what happened with the 1995  Sarin Attacks and the cult and its leader that lead the attack. It is strange I have listened and seen a number of things about cults in the last twelve months. The last series of American Horror story had a cult as it's storyline this showed how easy it is for ordinary people to get drawn into a cult when they have a few problems in their life. So the fact that Ryoko has a past she hasn't ever talked about with Toru means this secret made her a perfect target for the cult and their Leader as she was damaged in a WayI also listen to a podcast about the Heavens Gate Cult which liked this showed how the Leaders tend to cherry pick the bits of different philosophies they like and mix them to there own end this is what the first part of the book shows is the ideas behind the cult and shows how when they have been brought by the followers they do the horrific events in the later third of the book which lift that dark curtain of the sex and violence and the abuse of power within the Cult it a slow-burning novel that draws the reader in with the last third that is engrossing and horrifies in equal parts. This is a beautiful book as well Soho has made a real effort in the hardback with the Huge X cut in the hardcover showing the devilish illustrated endpapers in the book.