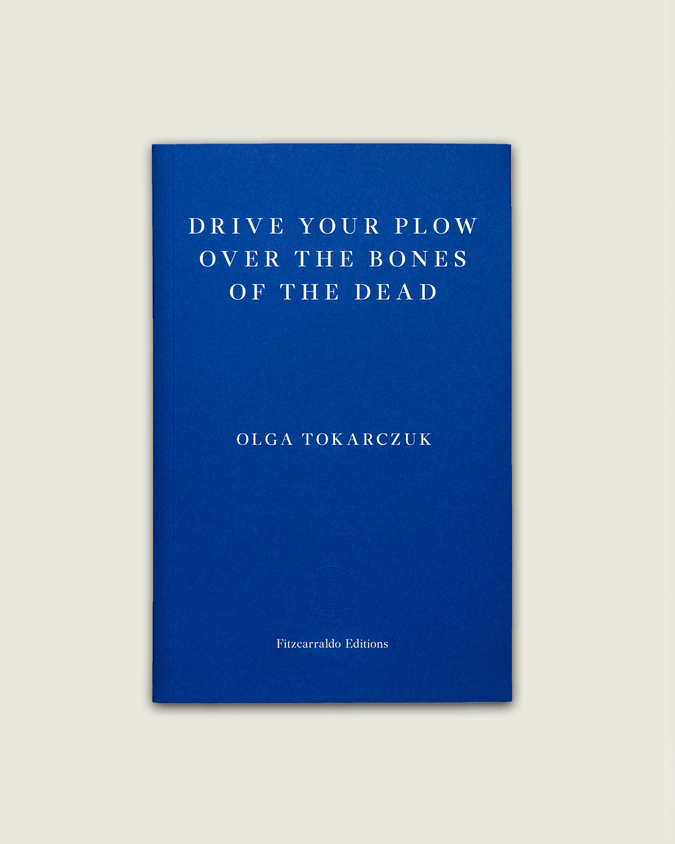 Drive you plow over the bones of the dead by Olga Tokarczuk
Polish fiction
Original title –  Prowadź swój pług przez kości umarłych.
Translator – Antonia Lloyd Jones
Source – Review copy
I read flights but one thing and another last year I never reviewed it which was a shame as I really liked it as it turned out it was well reviewed and my little review would have been a small piece in a larger yes for the book. So when I was sent her latest to be translated I decide I pull my finger out and review it as soon as it came out. Olga has been writing since the late 80's and has twice won the NIKE prize in Poland which is their version of the Man Booker prize. She also won the Man Booker international prize last year. This book is very different to flights.
The naming of Big foot occurred in a similar way. It was quite straightforward – it suggested itself tp me when I saw his foor prints in the snow. To begin with. , Oddball had called him "Shaggy", but then he borrowed "Big Foot" from me. All it means that I had chose the right nam for him.

Unfortunately, I couldn't choose a a suitable name for myself. I regard the one that's written on my identity card asscandalously wrong and unfair- Janina. I think my real name is Emilia or Joanna. Sometimes I think it's sometimes I think it's something like Irmtrud too. Or Belldona. Or medea.

Meanwhile Oddball avoids caling me bymy name like the plague. That means something too.Somehow he always finds a wa to address me as "You"

The use of names bring the human characters near the animals in a way.
The book opens with the main character Janina Duszejko a sixty-year-old that is a translator of William Blake, works at the local school. She also is interested in Astrology ad loves her animals. She is with another local Oddball at the home of another neighbor Bigfoot a local hunter who has died. In bizarre circumstances choking on a small deer bone. The two of them dress him before the police come. But they can't explain the animal footprints around the dead man and the exact cause of his death. Now for Janina, this seems like the animals are maybe getting the revenge she even starts seeing this in the stars she likes to read the signs she says are in the movement of the planets. This idea grows when more local hunters and people that abuse animals start turning up dead around the local Valley. But the valley has also changed in recent years this is told in a long spoken warning by Janina. Then Janina tells the police but they think she is just an old busybody. Who is the real killer?
That evening, just after dusk, Big fFoot's dog began to bay again. The air had turned blue, sharp as a razor. The deep, dull howling filled it with alarm. Death is at the gates, I thought. But then death is always at our gates, at every hour of the day and night. I told myself. For the best conversations are with yourself.At least there is no misunderstanding.I strtched out on te couch in the kitchen and lay there, unable to do anything else but listento that piercing wail

The dog of Bigfoot miss his master.
I like this it had a piece of classic Noir. In other places, it drifts into Magic realism as Janina sees the Animals doing the killings as she sees how the stars have written what is happening in the way she is reading them. I also felt echoes to classic crime writers the use of Endless night by William Blake which is also used as a title for an Agatha Christe novel. The busybody nature of Janina is rather like Miss Marple if Miss Marple had been written by Gabo she'd have been Janina reading the stars and living in her own world of Blake. But she starts to scare her pupils with her ideas.This questions on what we would do if the animals did turn on us we have seen this in other media over the last few years the tv series Zoo that saw animal turning on people. But the nearest comparison for me was the video for Queens of the stone age video No ones knows which saw a deer attacking humans. This is a thought-provoking work about the changing world of hunting how we treat animal development in rural areas. Add to that The words and thoughts of William Blake a man that had a lot to say about good and evil. This is a novel that subverts crime and noir and uses a different lead character that isn't a detective but at the heart of the events happening.