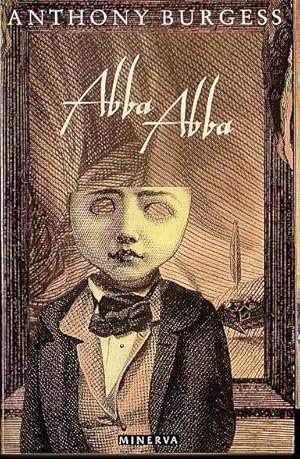 Abba Abba by Anthony Burgess
English fiction / Italian poetry
Source – personnel copy
I said earlier in the year I intend to try to review a Burgess novel or work as this year saw the 100th anniversary of his birth, but as ever I found other things to read so a few months later I return to a second book. This time it is a historical novel, which Burgess wrote a number of in his lifetime and like some of his other historical novels he uses historical fact to construct a novel from and the actual fact is that the English Poet John Keats lived in Rome at the same time as the Italian poet Guiseppe Gioachino Belli.
Giovanni Guliemi, doctor of letters of the university of Bologna, had a small private income derived from the rents of the land in Lazio  left him by his father, who was untimely dead of Naples cholera, some british gold invested with the banker Torlonia, and what he got from the tenants of the first and second floors of the large house facing the Basilica of Santa Cecila in the Piazza named for her in the Tratevere district og Rome. The third, top , floor was enough for his mother and himself.

Another fatherless man also the connection between Keat and Belli whose poem he translated into English
So what Burgess imagined is that these two great poets actually meet in Rome. Belli was well-known for writing his poetry in a rough Italian dialect. We find Keats a man who is in his end days he is dying at a house near the Spanish steps where he can hear the music of a nearby fountain. The two meet as Keats gets hold of a translation of one of Bellis earlier poems a poem about manhood. We see the two men try to converse as best they can as neither speaks the other's language as they connect via French. The second part of the book is a brief description of how JJ wilsom the translator of the Belli works in the second half of the book. explains how a Salford Schoolboy discovered Belli and decide to translate his works as he studied Italian as well as English as  a student a later discovery of his complete works in Italy.
The creation of the world

One day the bakers god and son set to

and baked, to show their pasta-maker's skill,

This loaf the world, though the idd imbecile

Swears it's a melon, and the thing just grew,

They made a sun, a moon, a green and blue

Atlas, chucked stars like money from a till,

Set birds high, beasts low, fishes lower still.

Planted their plants, they yawned: Aye that'll do

First verse of a Belli poem translated by Burgess himself from Italian
This is a short book the first part is a mere sixty pages of Keats in Rome a city which Burgess himself had a flat for many years , so we get a real feel of the city and also of the character like Elton,  Severn  and Bonaparte's daughter all were part of Keats life at the time(I googled Isaac Marmaduke Elton as that named seems a little surreal he was a real character and friend of Keats.  We have the meeting of the two great men may be like a brother relationship between Keats and Belli as Abba means father, they also both lost the fathers very young as well. They had a lot in common as poets. Belli is relatively unknown and was a poet that Burgess championed with his translation of his works into English. This shows what Burgess did well in other books like a dead man in Deptford and this is to use a piece of history here Keat in Rome and the fact that something else occurred that Belli was there at the same time. He did the same with Marlowe in the dead man in Deptford making him into a spy and much more than he was. That is the brilliant touch Burgess had to just imagine the scenario and build his book around it.