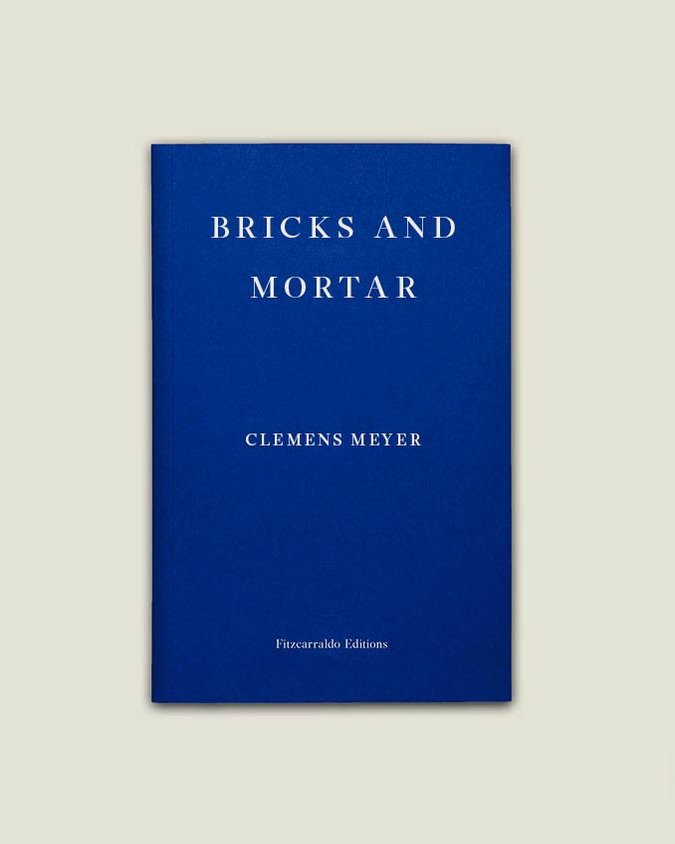 Bricks and Mortar by Clemens Meyer
German Fiction
Original title – Im Stein
Translator – Katy Derbyshire
Source – Review copy
I rejoin my late run on the Man booker longlist to try to get through the books , which I have now all read including a rereading of this book. One of the joys or reading so much in translation is to meet writers you have reviewed earlier as they move on in the careers and here is one such case . I first reviewed Clemens Meyer when on of his early short story collections All the lights was translated and published into English , so when six years later his Magnus opus arrived in english I read it, but struggled how to review it as it is like his earlier work an unflinching account of his east german homeland.So when it was longlist I decide a reread and maybe a new look at Im stein the book was also on the german book prize list when it came out in Germany
If this year goes well  I'll have saved up a nice sum. Most girls can't kep hold of it , like guys with their cum – money I mean . Gucci here, Prada there ,sure I treat myself now and then , what do you think ? (wink wink !smile to camera , and my little winter comedy's rolling after all , oh well , it'll be a nice little hotel job, the perfect end to a working day , and a gentlemen with champagne and hopefully not one of those monster dicks , mind you , wink wink !)

One of the girls early on about the life and how easy it is to get caught up in it and who is that next Man !!
The story is rather like a classic American gangster film plot in a way ,I 'm think Scarface in a way for the story of Tony in Scarface is similar to that of Arnie the main character in Bricks and mortar . They both come from the tough sde of town one aC killer that escapes to american and the other an East German football thug . Now they have different path tony is of course drugs but Arnie makes his with woman and sex in what is often called the oldest profession and as in Germany it isn't strictly illegal he sees his empire grow from the early days in 1989 to the modern-day from the dark side of the trade with young children and the pipeline bring women from around the world to the doors . We also see the shifting tastes of his client's as his empire grows but like all empires he has to protect it and this we see in full police and other people wanting to step in on the trade . We also see the world from the inside with the voices of those on the blunt end the girls
You open , your eyes and you're not alone . There's a woman sitting there , on the chair by the wall , right under the flower print . She's black , her skin , and black curly hair and a  pale pink dress . You don't understand right away because it's not possible. ou work with a couple of African women , it used be the Vietnamese to begin with and now its the Africans, but why has this woman of all people come to visit you ? And didn't they tell you no visitors for one or two days ?

A detached voice of a girl caught up in this world telling of the change faces she has seen
This is a brutal books , Meyer like earlier German writer like Jorg Fauser (who I reviewed here ) or Doblin in Alexanderplatz  they are much better at looking at the dark side of life and here Meyers use the prostitutes and the pimps to show how the old East German stumbled into the New Germany not smoothly but kicking and screaming like a premature child of one of the girls on the came screaming to go back to the safe world of the east at times not the capitalist world of commerce , webcams money to be made from the girls all day every day yes they have rights but some don't and as the book goes on you see them become more of a wheel in a money-making machine for Arnie and others , hence I choose their voices for the quotes as they really hit home I felt  the hopelessness of this a brutal world elegantly written by Clemens  and translated by katy and another gem from fitzcarraldo a publisher trying to bring the best and most challenging works into English .