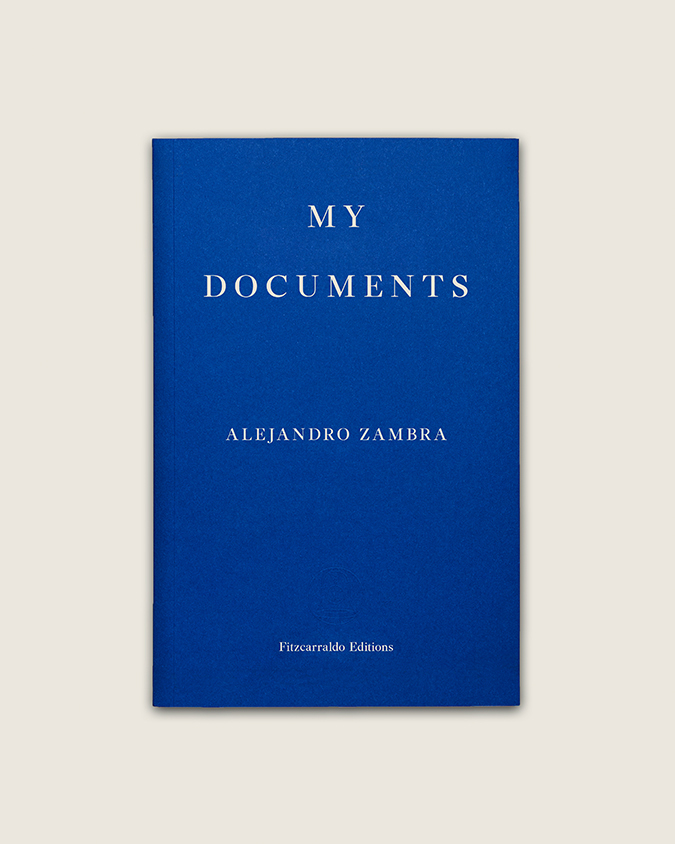 My Documents by ALejandro Zambra
Chilean fiction
Original title – Mis documentos
Translator – Megan McDowell
Source – review copy
The flash of a distant camera
reconnecting
thoughts and actions,
Fragments of our missing dreams,
Pieces from here and there
fall in place along the line,
Disappearing between you and me.

Life is changing everywhere I go,
New things and old both disappear.
If life is a photograph,
Fading in the mirror….

A Neil young lyric Distant camera from silver and gold album i felt the line fragments of our missing dreams suited this collection do well .
I have read Alejandro Zambra before his two Novella's Bonsai and ways of going home  the ,later I did review here . I remember at the time I read it thinking , he would be a great short story writer so when this collection from Fitzcarraldo editions arrived I was excited to see if my feelings about him were right .Alejandro Zambra currently teaches at Santiago Diego Portales university he has won a number of awards including the best Chilean Novel award and was part of the 2010 Granta best Spanish writer collection (time flies that was a great collection ).
He was twenty-three years old, it was the first computer he'd owned and he didn't know exactly what he wanted it for, considering he barely knew how to turn it on and open the word processor. But it was necessary to have a computer, everyone said so, even his mother . Who'd promised to help him with payments .

I was a bit old when I got my first lapton but had same feeling as what is this for in my life as our narrator did .
My documents could easily be called a novel in the way it is a collection of memories strung together , but the narrator isn't defined as the same one, so it's not a novel but a wonderful collection of gems memories drawn like the miniatures of old .Rather like in the 18th century people used carry a miniature of their loved ones eye just the eye and like that this collection it is a detached collection of stories of lives and memories . A remembrance of a first computer , from putting a poem on it , then listening to music , editing pictures and music finally to a dark side of the owning of a pc .Then we follow a smoker as he writers a diary of his giving up smoking (The irony is I just read Nicotine another non fiction work from FItzcarraldo also about stopping smoking ) .Then Condor Rojas is mentioned in one of the stories and rather like the stories themselves an echo of one of my own memories was remembered as like the writer himself , I remember the story of Roberto Rojas when this Chilean keeper pretend to be injured from a firework a match was abandoned and then he was found to have injured himself .
He'd been there with us, in front of the tv . When Condor Rojas faked his injury in Brazil and the Chilean team walked of the field at the Maracana. My father and I couldn't believe what we were seeing and Camilo was distraught too. "Fucking Brazilians!" I shouted to see if anyone would scold me,but no one did. My father sank into a furious silence. Camilo immediately set off downtown, and he was part of the crowd that protested in front of the Brazilian embassy. I wanted to go with him, but my parents wouldn't let me , and I had to swallow my rage.

The moment Rojas did the injury that turned out to be fake .
Again i was touched by Zambra I said although he grew up a million miles away from me and in a different world . I connected with him in ways of going home and again here , I remember my first interactions with a pc .But more than that the memory of what happened in that world cup qualifying game in 1989 that saw chile miss the 1990 world cup all but forgotten now outside Chile was by me at least remembered for a number of days after the reading of the story .Rather like Robin Williams in the film the final cut Zambra is a master of slicing together parts of life memories , loves and behind it all the dark past of Chile .This is a wonderful debut short story collection from one of the leading lights of Latin American fiction at the moment.
Have you read Zambra ?